OK, so I'm aware my posts have become a bit thoughtful and literary of late. Therefore, as is my nature, I would like to switch directly from the philosophical to the unashamedly shallow and share with you my favourite beauty products for the summer. Now, I spend a lot of money on products that claim to do everything from give me a 'natural sun-kissed glow' to make my eyes bluer (yes... I'm an idiot). Most of these products fail to deliver any of the grand promises they state on the box, however, here are a few which in my experience actually do.
Benetint by benefit. I love the colour of this lip and cheek stain, I think it suits my Enlgish rose complexion perfectly. This is perfect for people who like a bit of colour on their lips but don't like the feeling of lipstick/ leaving marks on glasses all the time. The colour can be as intense as you like depending on how much you put on, but it is so light you don't even notice it and it stays on all day (I end up just putting Vaseline on over the top every now and again to keep my lips soft).
Xen-tan. After a few unpleasant forays into the world of fake tan (nearly always resulting in me a) looking like I had some sort of skin complaint and b) smelling like a biscuit factory) I had resolved to wait for pale to come back in fashion and avoid bikinis until that day arrived. However, after reading reviews of 'xen-tan transform' written by people who seemed to be as fair-skinned as me, I thought I would give it a go. It really is amazing: even I managed to apply it pretty near perfectly, it's not orange at all AND it smells good. Also the colour wasn't too strong on the first application as to make people suspicious that you were faking it but you can build it up gradually to quite a respectable tan.
XEN-TAN Transform 6 fl oz.
Nivea soft moisturising creme.
It's just
the best all-round moisturiser I've found, it is absorbs into the skin so quickly and makes it so soft. You can use it on your face, hands and body, so I basically replaced three products with one when I switched to this. Also it's really cheap. Nivea Soft Refreshingly Soft Moisturizing Creme with Jojoba Oil & Vitamin E, 6.8 Ounces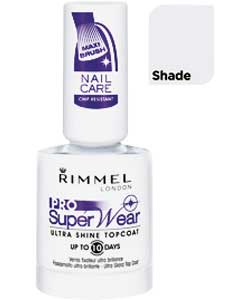 Rimmel topcoat. There's nothing better than chipped nail varnish for spoiling a carefully put-together look and in the summer you've got toes to worry about as well as fingers. I advise getting some help in in the form of a good topcoat, I made the mistake of doing without one for too long. It'll save you money (and time) in the long run too because you'll have to paint your nails less. This Rimmel one is pretty cheap, comes with a special wide brush which makes it so quick to apply, they do a matte one too if that's your thing. http://www.boots.com/en/Rimmel-Pro-Superwear-Top-Coat_1015757/